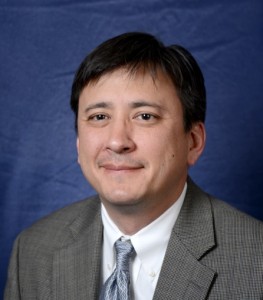 LEESBURG, VA. – The American Wood Council (AWC) has announced the promotion of Philip Line, P.E. to Vice President of Codes & Regulations following the retirement of Kenneth Bland. AWC has also added to its staff Manager of Wind and Seismic Engineering Dr. Omar Amini, Manager of Engineering Technology Dr. Francisco Flores, Western Regional Manager Paul Armstrong, P.E., and Midwest Regional Manager Ed Lisinski, P.E., C.B.O.
"Phil has been with AWC for 26 years and has done exceptional work on wood products, particularly in the development of wood design standards. His promotion and these staff additions not only build on AWC's strong reputation as a trusted resource on wood construction and design; they also enhance AWC's ability to ensure wood products are properly recognized as resilient building products. AWC's engineering and field staff are responsible for representing the industry among building code officials and in the code development process. Phil, Omar, Francisco, Paul and Ed have outstanding experience that will add to our already strong reputation," said AWC President & CEO Jackson Morrill.
Philip Line, P.E. has led the development and acceptance of design provisions for wood construction through AWC's consensus standards committees and participation in the International Code Council (ICC) code development process and ICC Evaluation Service product evaluation hearings. Last year, Phil was recognized with an Excellence Award from the National Institute of Building Sciences Building Seismic Safety Council and inducted as a member of the Virginia Tech Civil Engineering Academy of Distinguished Alumni. He has an undergraduate degree in Civil Engineering from Virginia Tech and a master's degree in Civil Engineering from the University of Virginia.
Dr. Omar Amini has more than nine years of experience in structural design, experimental design and modeling of wood structures for resistance to wind and seismic loads. He obtained his Ph.D. for development of seismic performance factors for the cross-laminated timber (CLT) shear wall systems used in AWC's Special Design Provisions for Wind and Seismic (SDPWS) standard. Dr. Amini also comes with strong standards experience through development of SDPWS provisions for CLT shear walls and as a member of the ICC Residential Assessment and Seismic Retrofit Committee working on developing a standard for seismic retrofit and assessment of one-and two-family dwellings.
Paul Armstrong, P.E., has experience in all aspects of code administration and development. He worked at the International Conference of Building Officials, a legacy code organization, Los Angeles Department of Building and Safety, and more recently as contractor building official to jurisdictions throughout California. He is well known for his educational presentations. Paul is a member of the International Code Council (ICC) Residential Building Code Development Committee. His territory includes California, Nevada and Hawaii, and temporarily Alaska, Idaho, Montana, Oregon, Washington, and Wyoming.
Dr. Francisco Flores obtained his civil engineering degree at the University of Cuenca in Ecuador and was awarded a Fulbright scholarship to pursue his master's degree at Virginia Tech. As part of a dual agreement between universities, he obtained his Ph.D. in Civil Engineering – Structural Engineering and Material Program from Virginia Tech in 2015 and a Ph.D. from the Civil Engineering Department at the Pontifical Catholic University of Chile in 2017. Both during his tenure at Virginia Tech and after, Dr. Flores contributed to AWC's seismic study of wood-frame shear wall structures project, initially as an analyst and later as an advisor to students working on the project. Dr. Flores has unique expertise in the use of high-performance computing to solve complex structural dynamics problems and will add significantly to the capabilities of AWC's already strong engineering team.
Ed Lisinski, P.E., C.B.O., was most recently the director of the building inspection department for West Allis, Wisconsin, which is a suburb of Milwaukee. He has been involved in several national ICC activities, including as a member of the Structural Code Development Committee, and the Building Membership Council. His knowledge of the codes gained as a design engineer and plan reviewer will be valuable for working with building officials in the Midwest, including Illinois, Indiana, Iowa, Kentucky, Nebraska, Michigan, Minnesota, Missouri, North Dakota, Nebraska, Ohio, South Dakota, and Wisconsin.
###